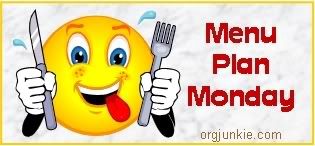 It's an easy week this week - the hubs is on a business trip until Wednesday evening. While I'll miss him terribly (already do and he's still at the airport here...lol), it's a much easier time in the kitchen for me - the kidlets and I will do simple stuff.
Monday - I'll have a tuna sandwich.
Boys will have chicken nuggets, sweet tater fries and carrots.
Tuesday - boys will have Kid Cuisines with my sitter. I have MOPS.
Wednesday - pancakes, sausage and fruit.
Thursday - chicken strips, mac n' cheese and corn
Friday - tacos
Saturday - lasagna with bread and a salad
Sunday - if you can find it, you can eat it :)
Head over to the
Org Junkie
to check out other menus this week - I bet they're far more interesting than mine :)