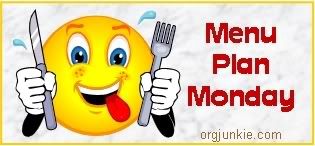 Now that school is back in session, I'm hoping to get into a better planning/grocery shopping routine. It's been a long time and I don't mind flying by the seat of my pants during the summer. I don't like doing it in the fall/winter.
Monday:
BBQ chicken pizza
regular pizza/breadsticks for boys
Tuesday:
egg, scrapple and cheese sandwiches
pancakes for boys
fruit
Wednesday:
chili with pasta
Thursday:
fondue for me! (MOPS MNO)
soup/Kid Cuisines for the boys and hubby
Friday:
Frozen lasagna
Italian bread
sliced tomatoes
Saturday:
pigs in a blanket
carrots and cucumbers with ranch dip
Sunday:
leftovers and if you can find it, you can eat it!
Head over to
Org Junkie
for more menus this week!