* We're leaving again tomorrow - this time, we're heading to Deep Creek Lake, MD. My husband's aunt and uncle have a lake house there and we'll be spending the weekend with family. Most haven't met Henry yet, so they'll have loads of fun hanging out with him - he's quite the personality now and becoming more and more fun every day! On Saturday, B and I, along with some other family members, are headed to Morgantown, WV to the Villanova/West Virginia football game. The kids will stay back and wear out my in-laws and my husband's aunt and uncle...lol
* I'm tired. Henry has decided that sleep is for the weak and he just doesn't want to do it anymore. I don't like that AT ALL. I'm weak and need sleep desperately....probably more than most people, but hey, I've always been like that. I'm hoping to be able to sleep in the car on the 7 hour drive tomorrow morning - that is, if Henry isn't screaming the entire time. Henry and car trips don't mix too well. Pray for me people.
* Our weekend in Cape Cod was HEAVENLY! Here are some pictures! We rented a G6 Convertible for the weekend - the weather was fantastic for it!
My better half :)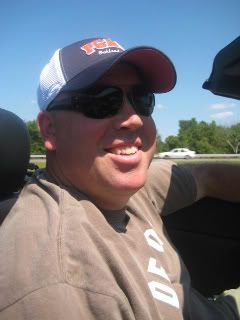 Moi :)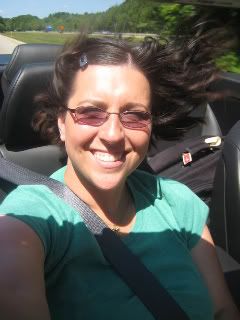 Us at the wedding :)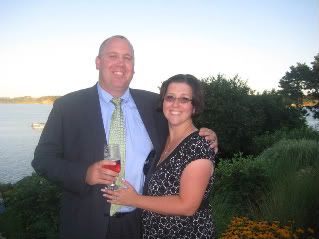 The bride's parents own a house right on the ocean and they invited everyone for a cookout the next day - here is the view from their deck.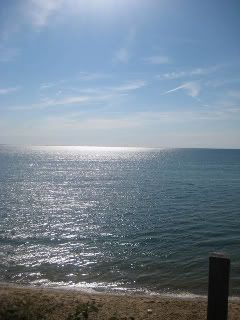 The view looking down from their deck.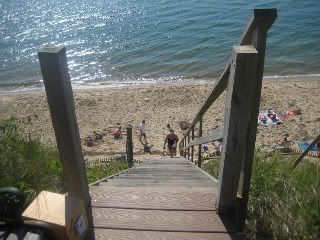 Their house was AMAZING! We were the last people to leave that day - I didn't want to leave that view and the smell of the saltwater - it reminds me of home and how much I miss being near the ocean. We had the best time being together as a couple and hanging with good friends. The kids had a great time here with my in-laws and everyone was happy.
* First grade starts in 5 days! I met Will's teacher last night and she's VERY nice. She has a class of 29 kids with no teacher's aide - YIKES! I was a teacher before I had kids and oy vey - I just can't imagine. Will's best buddy is in his class again this year - YAY! His mom and I were a bit worried that they wouldn't be together, so we can both now breathe a HUGE sigh of relief! I got Will some new gym shoes last night, so he's good to go for at least the first few weeks. New, warmer clothes will come in the next few weeks. He grows like a weed and I refuse to spend that much money on new clothes for him to grow out of them before he can really wear them.
Enough randomness I suppose - Henry is finally sleeping and the big boys are downstairs playing with their Webkinz. I need to get moving on the packing, etc. I hope y'all have a great Labor day!