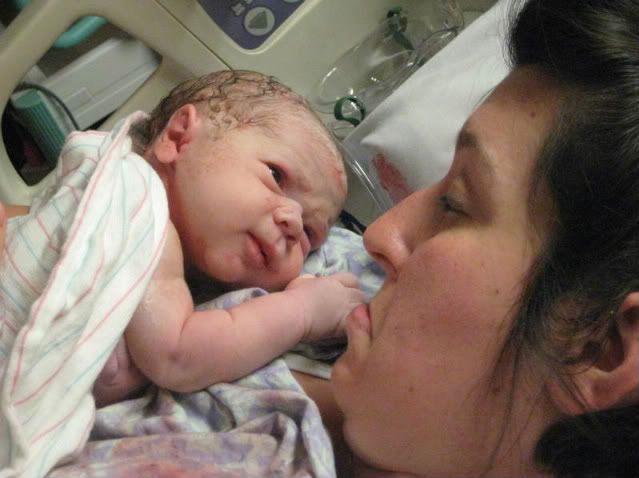 One year ago today, this sweet little boy entered the world. Once I put him on my belly and started talking to him, he stopped crying and stared at me. The love affair began right there.
I've done my best, as his mother, to soak up EVERY. OUNCE. of this year. I've patiently dealt with all of life's upheavals when a newborn joins the family. I've spent many, many hours just sitting - staring at him, smelling his hair, playing with his feet. I needed to memorize all of him.
This year has gone so amazingly fast. I vividly remember every detail of his birth - my water broke at exactly this time 1 year ago (1:34 p.m.) - I remember where I was and what I was doing. It's so surreal to me that all these months have passed and we've hit one year.
ONE YEAR.
I have a bond with this boy that I didn't know could exist. Don't get me wrong, I adore my big boys. They both hold very special places in my heart and I have bonds with them that I don't have with Henry.
I didn't sleep well last night - there was a yucky pit in my stomach. It was inevitable - he was going to turn 1, whether I wanted him to or not. I'm happy and excited on the outside, but a little piece of my heart is breaking on the inside. I just wanted him to stay little forever.
Staying little isn't going to happen. I'll continue to enjoy every bit of this. I'll keep that little broken piece of me on the inside and celebrate this year with my family tonight and let him grow.
Happy Birthday my sweet boy. I love you more than you'll ever know.