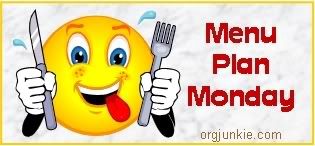 This is my first time doing this! I can't wait to get some new recipes because to be quite honest, I'm bored stiff with what I cook every week. This is an easy week for me this week - the hubs is away for work until Wednesday evening, so we're going to meet him for dinner tonight. I only need to feed me and the 2 biggest munchkins tomorrow night and then on Friday, the hubs and I are going out - YaY!
Monday - out to dinner.
Tuesday - boys are having kid cuisines and I'm having a frozen dinner - give me the mom of the year award, please.
Wednesday - french toast with sausage
Thursday - grilled hot dogs with chili, macaroni and cheese and corn
Friday - hubs and I are away for the night - kids will eat pizza/breadsticks and my AWESOME babysitter will try to give them carrots and dip, too.
Next week probably won't be much better because the hubs is on vacation and we're trying to plan little day trips here and there.